Ecosine Active Sync Cabinet 3p-3w or 3p-4w
FN3545
Complete integrated cabinet solutions with several options combining Ecosine Active Sync AHF FN3530 or FN3540 with SYNC300A, HMI, Ethernet capabilities, safety protection and active cooling.
Mains voltage from 200 VAC up to 480 VAC in 3W and 415 VAC in 4w.
Mitigation current up to 300 A per cabinet.
Option for 3 wire or 4 wire (with neutral) systems.
Pre-installed with up to 5 Power Modules and 1 Sync Modules.
It comes pre-wired for its maximum capacity, ready for future upgrades.
Possibility to combine several cabinet for even further capacity.
Standard version certified RoHS, CE and UKCA.
U version with UL approval.
Highlights
Most effective harmonic mitigation up to the 50th order, parameter setting for even and odd harmonics
Compact active harmonic filter for 3-phase loads with and without neutral wire
<5% THDi achievable even on most complex mixed loads and changing load profiles
Modular design with intelligent system approach offering tailored solutions for different applications and customers
NEW - Monitor and control your ecosine active sync cabinet from the 7" color touchscreen HMI with a modern UI
3-Level IGBT inverter topology for reduced power losses
Extended temperature range of modules up to 50°C
Ultra-fast and dynamic reactive power compensation (inductive and capacitive)
Load balancing and unloading of neutral wires
Flicker compensation (if caused by reactive power)
Compliance with IEEE 519, EN 61000-3-12 and other power quality standards
User-friendly, easy to install and maintain
Features and Benefits
Based on the broad knowledge and experience in terms of solutions and applications in power quality the Schaffner Group has developed a new generation of active harmonic filters. The new modular ecosine active sync series offers fitted and economical solutions for the most demanding harmonic mitigation challenges with any kind of non-linear load involved. Ecosine active sync filter series provides a solution concept which is modular, compact and can be used as stand-alone modules or as system solution. The optional sync module offers a smart load Management of the filter's usage and allows redundancy which guarantees a smart power quality solution in the era of Industry 4.0. The new 7" color touchscreen HMI offers a state of the art user experience when interacting with ecosine active sync cabinet. Schaffner provides active harmonic filters with excellent performance in solving power quality problems focusing on customer needs and application demands for cleaner and smarter energy.
Typical Applications
Automation industry

Data centers

ElevatorsCement industryHVAC installationsBattery chargesOil and gas explorationPaper millsShip propulsionSteel industryTunnel ventilationUPSWater/wastewater treatmentWelding equipmentWind turbinesMachines and Automation
Typical electrical schematic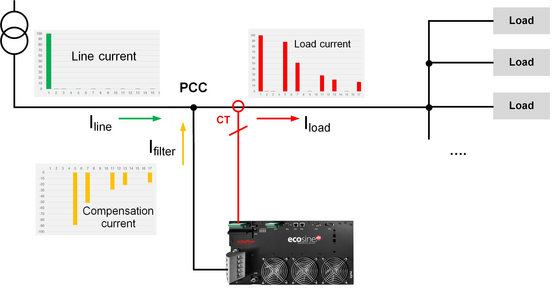 Back