Product Overview
Downloads
Ecosine Flex, 400-480 VAC 60 Hz 10% THDi Passive Harmonic Filters
Reduce THDi to 10% (15% if no DC-Link present in the drive)
Filters for diode rectifier with and without DC-link choke and thyristor rectifier
Help to comply with EN 61000-3-12, IEEE 519 and other PQ standards
Increase the efficiency of energy utilization
Most compact design
Plug and play, ready to use
Features and Benefits
FN3458 (60 Hz) models of the Ecosine Flex product family represent the very compact economical series with a THDi performance of <10% for drives with 4% Ldc and <15% for drives without Ldc.
They are ideal for non-linear three-phase equipment with B6 rectifier front-end that do not require the industry leading <5% THDi performance provided by Schaffner Ecosine Evo filters.
The performance targets the requirement of EN 61000-3-12 and IEEE 519 for Isc/IL <50. Schaffner Ecosine filters help to unburden the electrical infrastructure from excess loading and heat caused by current harmonics, and therefore support a better utilization of electric system capacity.
Lower harmonics also reduce the risk of system resonances and potential downtime of sensitive electronic equipment.
FN3458 filters upgrade standard motor drives to low-harmonic drives quickly and easily.
Typical Applications
Equipment with front-end six-pulse rectifier

Motor drives

Factory automation equipment

Water/wastewater treatment facilitiesFan and pump applicationsHVAC installationsMission-critical processes
Technical Specifications
Nominal operating voltage
3x 380 to 480 VAC ±10%
Operating frequency
60 Hz ±1 Hz
Nominal motor drive input power rating
5 to 300 HP @ 480 VAC
Total harmonic current distortion THDi*
<10% @ rated power (with DC-Link choke 4%)
<15% @ rated power (without DC-Link choke or <4%)
Total demand distortion TDD
According to IEEE 519
Efficiency
≥ 98% at rated voltage and power
Overload capability
1.6x rated current for 1 minute, once per hour
High potential test voltage
P -> E 2480 VAC for 1 s
Overvoltage category
OV III (IEC 60664-1 / UL 61800-5-1)
Earthing System
TN, TT, IT
Protection category
IP 00, IP 20
Cooling
Internal fan cooling or external fan cooling***
Ambient temperature range
–25°C to +45°C fully operational ****
+45°C to +70°C derated operation *****
–25°C to +85°C transport and storage
Design corresponding to
UL/IEC 61800-5-1, EN 61800-5-1, CE (LVD2006/95/EC)
Choke: IEC 61558-2-20
Flammability corresponding to
UL 94 V-2
MTBF @ 45°C/480 V (Mil-HB-217F)
>300'000 hours
* System requirements: THDv <2%, line voltage unbalance <1% Note: performance specifications in this datasheet refer to six-pulse diode rectifiers. SCR rectifier front-end will produce different results, depending upon the firing angle of the thyristors. ** External UL-rated fuses required. *** Please check the inlet air flow requirement for cooling, see below in this document and in the user and installation manual. **** Except 300 HP versions that have a maximum nominal temperature of 40°C. ***** Iderated = Inominal * √((Tmax-Tamb)/(Tmax - Tnom) with Tmax = 70°C, Tnom = 45°C (or 40°C for 300 HP versions)
Typical electrical schematic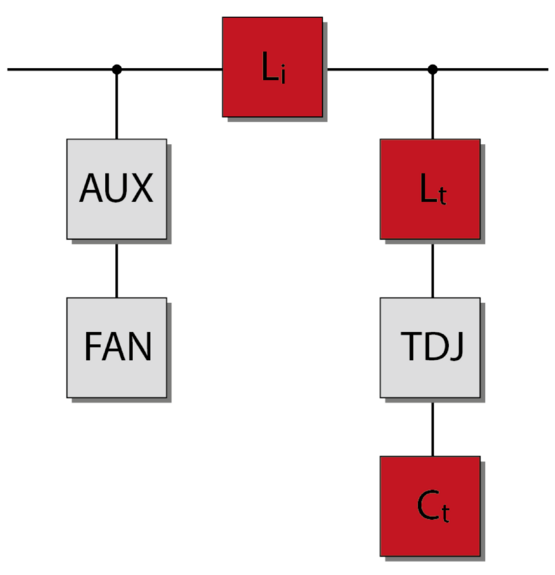 Back