Product Overview
Downloads
Ecosine 400-480 VAC 50Hz Economy Passive Harmonic Filters
Economy line of passive harmonic filters for THDi <10%
Help to comply with EN 61000-3-12, IEEE-519 and other PQ standards
Support an efficient utilization of electrical system capacity
Ideal for motor drives with 6-pulse rectifier front-end
Suitable for diode and thyristor (SCR) rectifiers applications
Features and Benefits
FN3416 (50 Hz) models of the ECOsine product family represent the very compact economy line with a THID performance of >10% (with Ldc).
They are ideal for non-linear three-phase equipment with B6 rectifier front-end that do not require the industry leading <5% THID performance provided by Schaffner Ecosine Evo series.
The performance is still sufficient to comply with EN 61000-3-12 or with IEEE-519 for Isc/IL <50. Schaffner Ecosine filters help to unburden the electrical infrastructure from excess loading and heat caused by current harmonics, and therefore support a better utilization of electric system capacity.
Lower harmonics also reduce the risk of system resonances and potential downtime of sensitive electronic equipment.
FN3416/18 filters upgrade standard motor drives to low-harmonic drives quickly and easily.
Typical Applications
Three-phase power conversion equipment with front-end six-pulse rectifier (diode or SCR)
Motor drives, like those used e.g. in pump and fan applications
Battery chargers, incl. DC fast chargers for e-cars
Technical Specifications
Nominal operating voltage
3x 380 to 500 VAC ±10%
Operating frequency
50Hz ±1 Hz (FN 3416)
Flammability corresponding to
UL 94 V-2 or better
Nominal motor drive input power rating
4 to 160 kW
Total harmonic current distortion THDi*
<10% @ rated power (with DC-Link choke)
<15% @ rated power (without DC-Link choke)
Total demand distortion TDD
According to IEEE-519
Efficiency
>98% @ nominal line voltage and power
Overload capability
1.6x rated current for 1 minute, once per hour
High potential test voltage
P -> E 2500 VAC (2 sec)
Earthing System
TN, TT, IT
Protection category
IP 20
Cooling
Internal fan cooling, unregulated
Ambient temperature range
–25°C to +45°C fully operational
+45°C to +70°C derated operation***
–25°C to +70°C transport and storage
Design corresponding to
UL 508, EN 61558-2-20, CE (LVD2006/95/EC)
* System requirements: THVD <2%, line voltage unbalance <1% Note: performance specifications in this datasheet refer to six-pulse diode rectifiers. SCR rectifier front-end will produce different results, depending upon the firing angle of the thyristors. ** External UL-rated fuses required. *** Iderated = Inominal*SQRT(70°C-Tamb)/25°C
Typical electrical schematic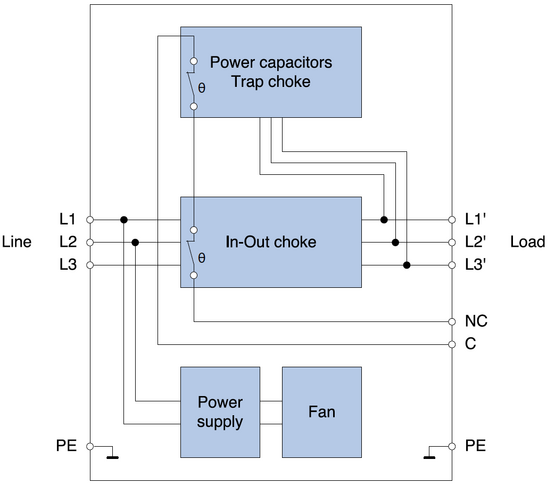 Back