Features and Benefits
The FN 3311/FN 3310 series are the most compact dedicated high current AC filters, not only suitable for PV applications, but being an optimum fit with most modern PV inverter topologies. In addition the filters can be configured in a very flexible way to fulfil custom specific application requirements. All FN 3311/FN 3310 come in unsymmetrical housings, which help to prevent inverse installation and wrong electrical connection. Along with solar panel-side installed Schaffner DC EMC/EMI filters FN 2211/FN 2210, the AC filters FN 3311/FN 3310 are key to meet the stringent international standards for electro-magnetic compatibility and help to ensure a reliable and fault-free operation of the entire PV system.
Typical Applications
The FN 3311/FN 3310 series are primarily designed for all kind of power line connected converter and inverter applications between 250 and 2'300 A. However, they are optimised for PV inverter and can potentially also be applied for general purpose motor drives applications.
Technical Specifications
Maximum continuous operating voltage
3x 520 VAC for FN 3310
3x 520/300 VAC for FN 3311
Operating frequency
DC to 60 Hz
Rated currents
250 to 2300 A @ 50°C
High potential test voltage
P –> E 2 kVAC for 2 sec (FN 3311 IT 3 kVAC for 2 sec)
P –> P 2.25 kVDC for 2 sec (FN 3311 IT 2.68 kVDC for
2 sec)
Protection category
IP 00
Overload capability
4x rated current at switch on, max. 8 sec
1.5x rated current for 1 minute, once per hour
Temperature range (operation and storage)
-40°C to +100°C
Climatic category
40/100/21 acc. to IEC 60068-1
Terminals/Housing
Ni plated cu bars/Metal
Flammability corresponding to
UL 94V-0
MTBF @ Rated amb. Temp./Voltage (Mil-HB-217F)
> 200,000 hours
Design corresponding to
UL 1283, CSA 22.2 No. 8, IEC/EN 60939, EN 60721-3
Typical electrical schematic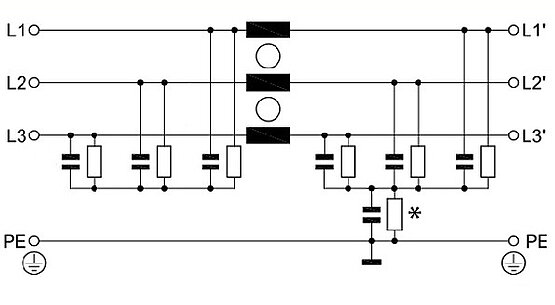 Back