Compact high current DC EMC/EMI filter
Reduces conducted emissions towards the solar panel
Reduces the probability of EMI radiation off the solar panel
Helps to prevent premature panel aging
Helps to meet international EMC regulations
Most compact standard solution in the industry
FN2210HV without Cy capacitors to ground
Features and Benefits
Installed between the PV inverter and the solar panel, the FN2211HV and FN2210HV DC filters are used to influence positively the conducted emissions on the panel side of the system. Therefore the DC filters significantly reduce the potential for highfrequency (HF) interference radiation of the panel. The filter also helps to prevent premature panel aging because of HF stray and leakage currents.
Typical Applications
The FN2211HV/FN2210HV series are primarily designed for PV inverter applications between 250 and 2'300 A. However, they can potentially also be applied in other DC applications within published specifications, like UPS, DC motor drives, energy/battery storage systems, or DC charger installations.
Technical Specifications
Maximum continuous operating voltage
1'500 VDC
Flammability corresponding to
UL 94V-0
Design corresponding to
UL 1283, CSA 22.2 No. 8 1986, IEC/EN 60939,
EN 60721-3, EN 62109
MTBF @ Rated amb. Temp./Voltage (Mil-HB-217F)
> 200,000 hours
Rated currents
250 to 2300 A @50°C
High potential test voltage
P -> E 6'800 VDC for 2 sec
P -> P 3'850 VDC for 2 sec
Protection category
IP 00
Overload capability
4x rated current at switch on, max. 8 sec 1.5x rated current for 1 minute, once per hour -40°C
Temperature range (operation and storage)
to +100°C
Climatic category
40/100/21 acc. to IEC 60068-1
Terminals/Housing
Ni plated cu bars/Metal
Typical electrical schematic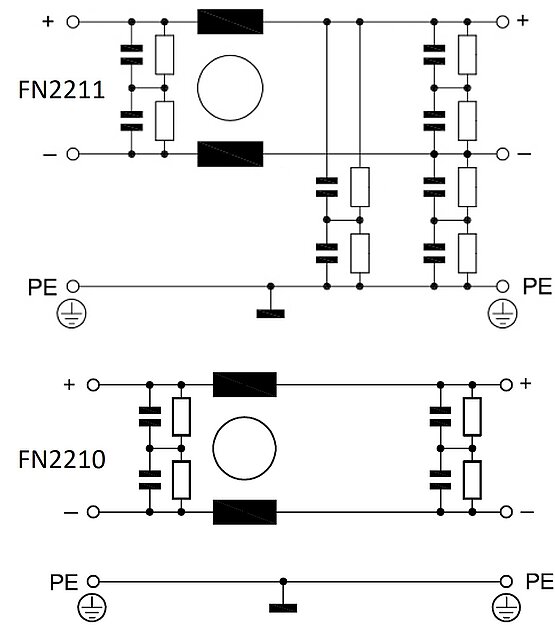 Back