DATA
SHEET
3-Phase Filters
FN3287 / FN3288
Smallest book-style EMC/RFI Filter for Inverter and Power Drive Systems
30. Jun 2022
28. Apr 2022
3-Phase Filters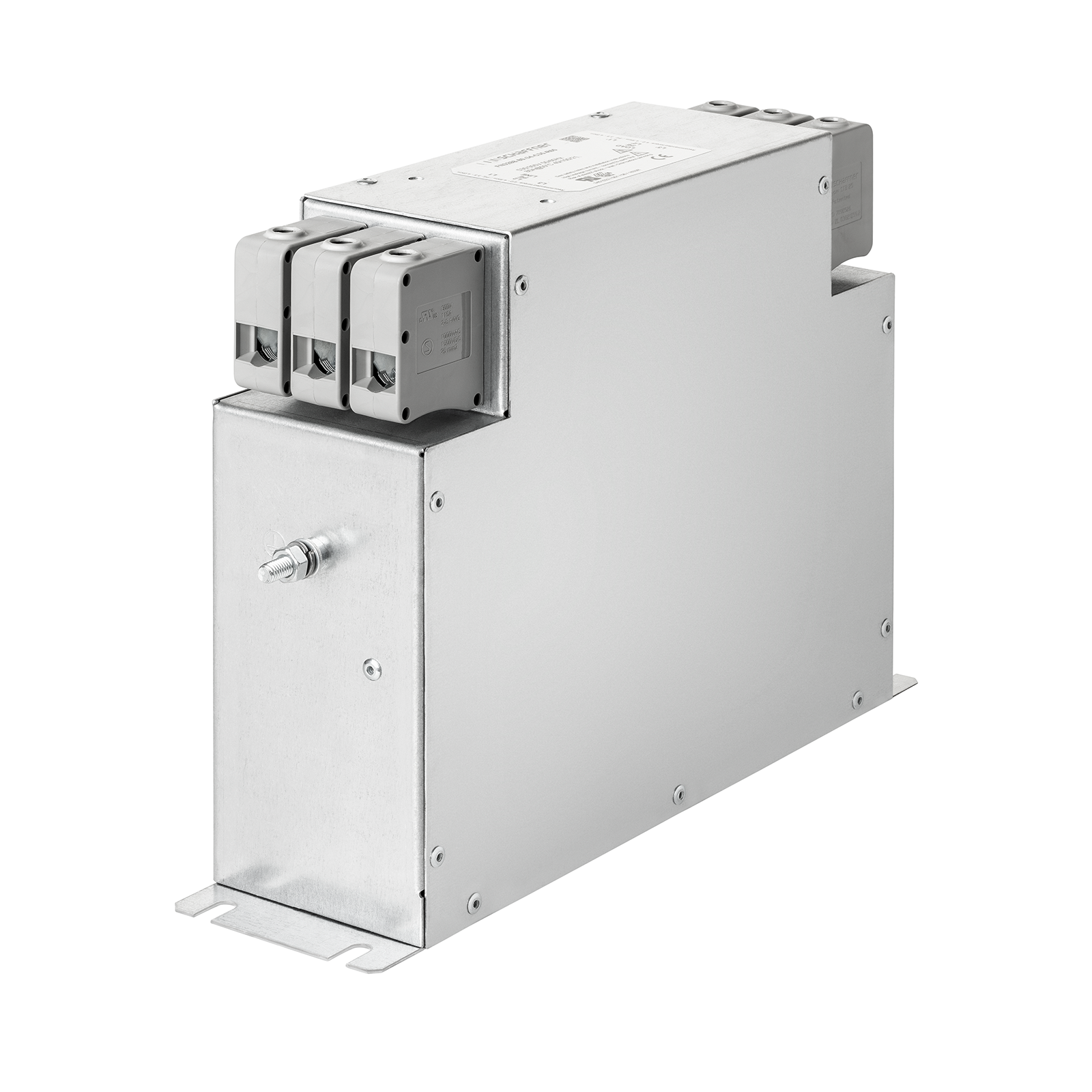 Standard and high performance EMC solution
Footprint space-saving book-style housing
Solid safety connector blocks
Standard attenuation performance FN3287
High attenuation performance FN3288
HV versions for 690 VAC applications
HVIT- and IT versions for IT distribution networks
Versions with low leakage current
Performance indicators
Technical Specifications
Maximum continuous operating voltage

3x 530/305 VAC (FN 3287, FN 3288)
3x 530 VAC (FN 3288 IT)
3x 760/440 VAC (FN 3288 HV)
3x 760 VAC (FN 3288 HVIT)


Rated currents

10 to 230 A @50°C


Operating frequency

DC to 60 Hz


High potential test voltage

P -> E 2260 VDC for 2 s (FN 3287, FN 3288)
P -> E 2900 VDC for 2 s (FN 3288 IT)
P -> P 2280 VDC for 2 s (FN 3287, FN 3288, FN 3288 IT)
P -> E 2650 VDC for 2 s (FN 3288 HV)
P -> E 3530 VDC for 2 s (FN 3288 HVIT)
P -> P 3270 VDC for 2 s (FN 3288 HV)


Pollution degree

3 acc. IEC 60664-1


Overload capability

6x rated current for 1 sec, once per hour
1.5x rated current for 1 minute, once per hour


Temperature range (operation and storage)

-40°C to +100°C (with current derating >50°C)


Climatic class

40/100/21 acc. to IEC 60068-1


Protection category

IP 20 acc. to IEC 60529


Vibration and shock

3M4 (operation); 2M2 (transport) acc. to IEC 60721-3-3; IEC 60721-3-2


Flammability according to

UL 94 V-0


Compliance with insulation requirement

> 1MOhm acc. to IEC 60204-1


Design corresponding to

UL 60939-3, IEC 60939-3


MTBF

> 200,000 hours


Overvoltage category

III acc. IEC 60664-1

Features and Benefits
FN3287 and FN3288 series of filters provides state-of-the-art EMI attenuation based on an innovative filter topology. They help to ensure compliance with Class C2 or even C1 limits.
The slim book-style shape allows a convenient and space-saving installation next to inverters, converters or motor drives.
The compact FN3287 and FN3288 filter from 10 to 230A are designed for the most diverse applications worldwide, including machinery and machine tools.
FN3288HV filters up to 230 A are applicable for 690 VAC distribution networks.
FN 3288IT and FN 3288HVIT filters up to 230 A meet the special requirements for IT distribution networks.
Low leakage current filter versions help to fulfill tough requirements (e.g. 0.1 mA) in respect of leakage current limitation.
Typical Applications
Three-phase variable speed drives and power drive systems (PDS)
Machine tool and machinery equipment
IT power distribution networks (FN3288IT and FN3288 HVIT)
General energy conversion devices (inverters, converters)
Process automation equipment
Three-phase power supplies
Low-leakage current requirements
Typical electrical schematic